New Honda Hybrids for Sale in Torrance, CA
New Honda hybrid cars and SUVs offer some of the most impressive mpg ratings in the brand's entire product portfolio. You'll see as much when you take a 2023 CR-V Hybrid or Accord Hybrid test-drive -- even as you travel along the interstate and explore the capabilities of these models, you'll notice that the gas gauge will hardly drop.
That kind of incredible efficiency is attributable to the cutting-edge hybrid technology used in all Honda hybrids for sale at our Honda dealership in Torrance. Want to learn more? Just give us a call and tell which new Honda hybrid in California you're interested in. Our team will arrange a personalized showing to help you see why so many people now prefer a hybrid vs. gas model.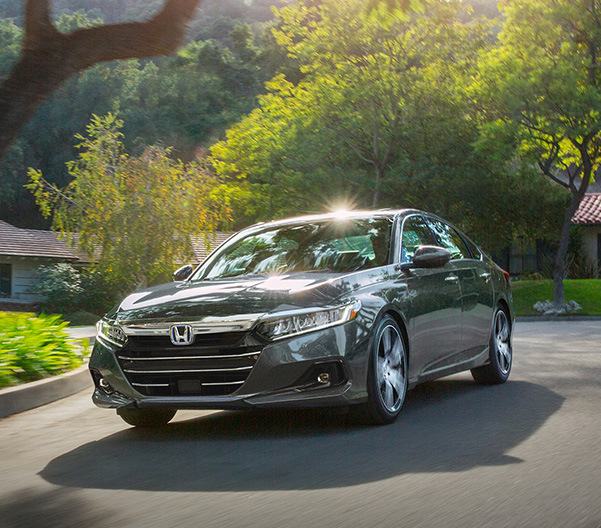 Buy a 2023 Honda CR-V Hybrid near Me
One of the most popular hybrid models on our lot is the new 2023 Honda CR-V Hybrid. You'll love just about everything this new SUV offers, from its ample interior room to the commanding view of the road that its high stance affords. Curious about the CR-V Hybrid cargo capacity? Spoiler alert: it's impressively large. Speaking of large, so are the savings you'll enjoy at the pump thanks to the CR-V Hybrid mpg ratings, which can reach up to 40 city mpg.
You can learn more about everything the 2023 Honda CR-V Hybrid offers Southern California shoppers by stopping by our showroom today.

Honda Accord Hybrid for Sale in California
Sedan fans, take note: one of the most popular new cars for sale in SoCal is now available in hybrid form. We're talking, of course, about the 2023 Honda Accord Hybrid, which looks, feels, and drives just like any other Accord for sale nearby -- yet returns up to 46 city city. With Accord Hybrid mpg ratings being that high, this vehicle ensures shoppers will find they can enjoy massive fuel savings without sacrificing their favorite Accord features.
Learn more about how to buy a 2023 Accord Hybrid in Torrance when you speak with one of our Honda sales associates.
So, which new Honda hybrid is your favorite? If you're not sure, we'll be happy to help you compare different Honda hybrid models so you can determine which hybrid car is best for you.
Whichever model you prefer, just know that you can contact Scott Robinson Honda at any time to begin the purchase process. We look forward to serving you!