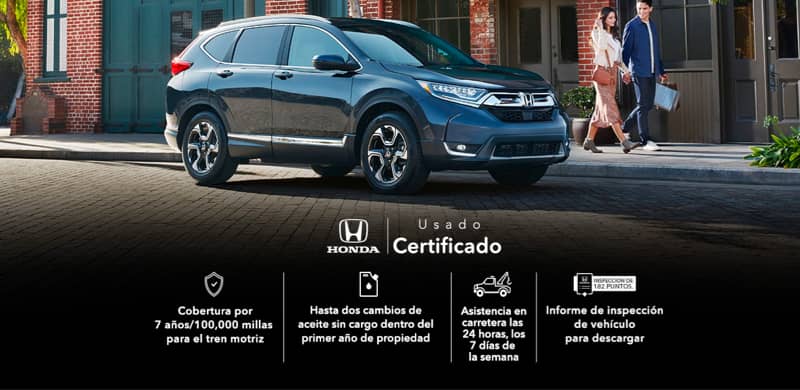 Usados Certificados Vehículos
Nada se compara con la calidad de un Honda. Ningún otro programa se le acerca.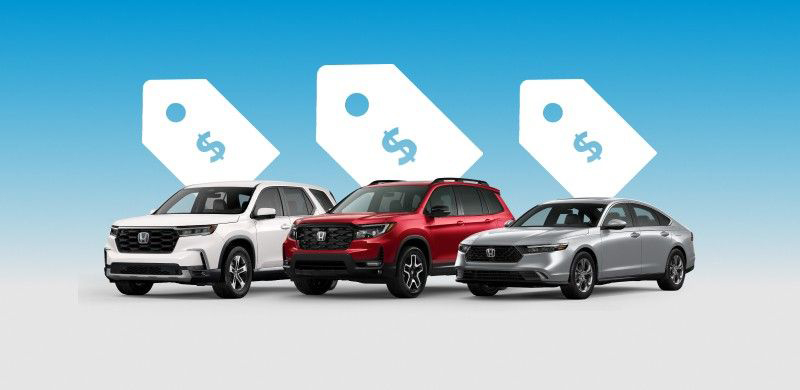 Ofertas Vigentes
Vea las ofertas actuales destacadas de este mes en los nuevos vehículos Honda.
Nuestras Reseñas
Randy Lee is a great sales person who loyaly worked with us for about a month to get us into this van. He is an exceptional worker who was always looking out for our best interest in mind. Randy is the helpful Honda person. Liked the way he showed us how to use our new van. He was always truthful and up front with us.
Randy Lee the best and easy to deal with. He listen make the whole process fast and easy. Hopefully the car is good and reliable because this our first Honda.
Friendly customer service, clean facilities, efficient buying process, detailed introduction for the car I'm happy with my purchase and will recommend this dealership to my friends and family
The customer service was really great. Ihab was very helpful as always and hospitable. I would definitely recommend family and friends.
Ali was extremely helpful and walked me through the process patiently! I will recommend him to all of my friends and family.
Obi is an excellent sales rep, this is my 3rd car with this dealer and he is always very helpful.
OUTSTANDING! MARSEILLE WAS AMAZING TO WORK WITH! HE MADE THE PROCESS OF GETTING MY CAR SEAMLESSLY EASY. I WOULD DEFINITELY GO BACK TO THIS AMAZING LOCATION
Jonathan Lopez was very nice and answered any questions we had. He was very professional and made the process easy and fast.
So unfortunately I had a terrible terrible experience with my last purchase at Downtown Honda LA. So much so I vowed to never go back but I loved Hondas so much so decided to look elsewhere and SO HAPPY I did. Ihab Ghobrial was the first person to contact me through internet sales and he stuck with me the whole way through as well as truly trying to help me find something within my budget. Look for Ihab and Tamer! They make a great team and I can honestly say this experience was truly great, thank you guys ! Happy holidays to you and your fams!!!
The sales representative was very helpful and was very patient with us. Definitely recommend coming here, love the service. Definitely recommending this place!
Steve was very knowledgeable professional And extremely helpful. He is a great asset to the company. The facility is beautiful, and always very clean.
Your sales person Steve Ford was very informative about the vehicle I purchased, he shared many options that I had & allowed me to make the decision with no pressure. Was a very pleasant experience.
With the prices at what they are I cannot buy a car at this time, but my sales associate Darren White was an easy going guy and let me test drive the 2018 hatch that I liked. The guy did realize with me outraged by the price I will not ultimately purchase, but it was very tempting especially with the issues I had with my 2022 Civic Sedan from another dealer. He even helped me make an appointment with the dealership for my issue which I did for next week.
Steve Ford was fantastic -- very helpful, very friendly. Answered questions via text messages that I didn't think to ask in person. The finance guy was also great.
he kept it cool with me and made sure nothing felt rushed or to not stress me out with such a big purchase. all in all he made it a great experience car shopping with scott robinson
Tamer Mansour was very patient & showed us the used Hondas & we found one we liked so much we bought it. The paper work got done & finalized & I was able to drive my Honda home. Im coming back on Tues to have Karr alarm installed.
Anil was awesome to work with. Always available by text and keep me updated. Great guy! Been hunting for an Accord LX all over So Cal and he delivered.
I felt no pressure when I initially called your dealership and upon my first visit. Darren White (and Manager) were extremely helpful in getting the deal that worked for me.
The sales person was nice and polite and informative he answered all my questions about the car and pricing. And showed me how to use the and the special features than come with the vehicle.
Marseille was awesome! Super helpful and friendly. I liked that you guys were willing to work with us on our trade in value. Overall a very pleasant experience.
Jake was super informative when I asked him any questions throughout the whole process making it much easier for me to decide yes for the car
Ali was a great salesman from the moment we drove onto the dealership. He was funny, charismatic, detailed, and had the answers to every questions we had. we purchased a vehicle 7-8 years ago and this time around the experience went above our expectations. We will be back in the future
Ihab is very professional to introduce the car to me. We choose Odyssey in 30-40 minutes, service is very good.
Customer service was amazing, Ali Hivand is the BEST. Highly recommended. You have to work in only one thing, Bring back the coffee machine!!!
Working with Ali and Richard. They were very helpful in explaining everything. Ali was very patient when showing me cars, and Richard was very patient explaining the contract.

Bienvenido a Scott Robinson Honda
Cuando esté buscando un automóvil nuevo o semi-nuevo para usted en el área de South Bay, haga Scott Robinson Honda su primera y última parada. No solo tenemos una amplia variedad de modelos Honda nuevos en nuestro lote, sino que también ofrecemos para la venta una increíble selección de vehículos Honda usados y usados certificados. Cuando visite nuestro concesionario Honda en Torrance, CA, espere disfrutar de una experiencia en el local que lo dejará satisfecho. Queremos asegurarnos de que esté contento con un arrendamiento o compra de un Honda nuevo, por lo que ofrecemos beneficios como el Plan de protección de precio de Scott Robinson Honda para garantizar que se vaya de nuestro local con una sonrisa en la cara.
Si es el momento de cambiar a un Honda nuevo, nuestro concesionario Honda de Torrance tiene exactamente lo que busca. Sin importar si desea un Honda Accord sedán, un vehículo deportivo utilitario (SUV) CR-V o un elegante Honda Civic Coupe, tiene la garantía de encontrar un Honda nuevo que se adapte a su estilo de vida cuando revise nuestro inventario. Además, cada compra de un vehículo nuevo viene con una garantía limitada de por vida del tren motriz exclusiva de
Scott Robinson Honda. Y si está buscando ahorrar dinero y obtener un Honda usado respaldado por una excelente garantía, tenemos automóviles CPO (usados certificados) Honda en abundancia. Cuando esté preparado para conversar sobre las opciones de un préstamo automotriz, confíe en los expertos de nuestro departamento de financiamiento Honda. ¡No olvide preguntar sobre nuestras competitivas ofertas de arriendo de vehículos Honda y también sobre las ofertas de financiamiento Honda!
Cuando llegue la fecha del mantenimiento o tenga que realizar reparaciones automotrices más extensas, nuestro centro de servicio Honda estará siempre listo para ayudarle. Contamos con personal altamente capacitado con técnicos y asesores de servicio Honda que pueden satisfacer o superar todas sus necesidades, lanzamos ofertas especiales de servicio y piezas, y usamos piezas Honda genuinas siempre que sea posible. Además, ofrecemos un horario de servicio extendido durante la semana y los fines de semana. ¿No puede quedar inmovilizado mientras trabajamos en su vehículo? ¡Aproveche nuestro servicio de traslado gratuito!
Scott Robinson Honda está ubicado convenientemente en 20340 Hawthorne Blvd en Torrance, CA, a pocos minutos en automóvil de Los Angeles, Redondo Beach y Hawthorne. Dese prisa para visitar nuestra sala de exposición hoy y descubra lo que la ventaja de Scott Robinson Honda puede ofrecerle.
Obtener Las Direcciones Scott Robinson Honda